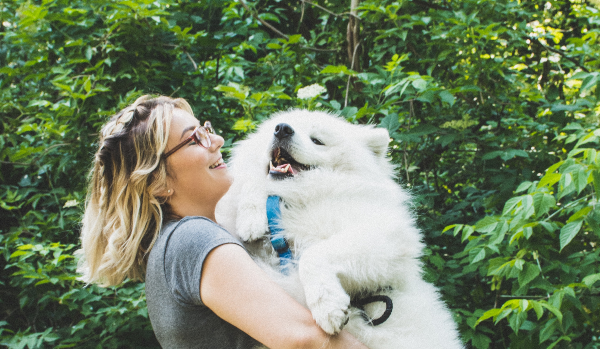 There's no bond like the one we share with our dogs. They are our best friends, our copilots, our snuggle buddies, our food critics, and even our body guards. And that is exactly why we should take the time to cherish our time with them.
Spending time with your furry best friend not only strengthens your bond, but it also acts as an incredible stress reliever.
So live up this summer with your pet at your side. Unsure what to do? Take a moment to read about all the cool things (dog-friendly things) to do this season!

1 - Go on a hike!
Whenever I hear someone say that hiking isn't their thing, the first question I want to ask is where they've hiked and who they've hiked with.

I love to hike. I love to see nature and feel the sun on me. I love that stupid happy look on my dogs face. I. Just. Love. It. But there are some hikes that make me regret ever putting my shoes on. The key is to find the hikes best suited for you and your pet's activity level.

Once you've found the perfect hike, you'll enjoy every Vitamin D filled moment with your best furry friend.
2 - Get your paws dirty
What's summertime without the beach? (Or the creek, river, lake for our non-coastal communities!)

The beach is a great way to spend the day. Whether you're looking for mild to moderate activity, the beach can be made into anything you want. What's more is that it's free!

It's also the perfect opportunity to sink your toes deep into some sand and play fetch with your best friend.
3 - Bike ride
On a nice summer day, bike rides are a great way to explore the town with your pet.

Plus, bike rides help stimulate your pet to the outside world - and give them quite a good exercise.

(Note: Be sure to remain in the bike lanes or bike safe areas of the road at all times, keeping your pet on the side furthest away from incoming traffic.)
4 - Netflix and Nap
This is my pups all favorite past time. We love curling up on the couch, drawing the blinds, and watching 101 Dalmatians together.

It's an awesome way to decompress and relax with your best friends on your own. You can also make it social by inviting some friends over for a little puppy watching party.
5 - Puppuccino
Ah, puppuccinos. They're sweet, they're fluffy, they're tasty! What's not to love about a cup of whipped cream?

Stroll down to your local coffee shop and order your pup a 'Puppuccino'. Then get ready to take some of the funniest and cutest photos of your life.
6 - Puppy Play Date
Puppy play dates are amazing and so easy to put together. Plus, they're great for socializing and introducing your pet to new friends.

Fun tip: While you're puppers are playing together, pour you and your friends some wine and make some DIY puppy treats. They are so fun to bake and make for tasty post-playtime snacks for your pups!
7 - Paddleboard

Did you know that paddleboarding is scientifically proven to reduce stress levels? It's also a great low impact workout for people of all ages.

Bring your dog paddleboarding or even kayaking with you with summer and explore the big blue together!
8 - Brewery
Depending on where you live, dog-friendly breweries in more areas than you'd think.

Not only do you get to enjoy craft beers, but you get a chance to do it with your best friend. Plus, it's a wonderful opportunity for your and your pet to meet some new people.
Learn more about Hiking with Your Dog here.